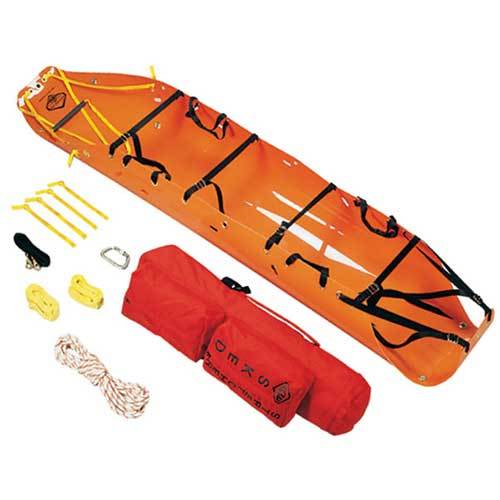 Rescue Stretcher kit
Product Description
SKED Rescue stretcher Each sked basic Rescue system comes complete with :
SK-201-The Shed stretcher - The stretcher is fabricated from a special plastic formula which is both flexible and durable. Securing straps with steel buckles are sewn anto the stretcher through brass grommets which contribute to the strength and durability. Sked is functional in the desert or jungle . It will not break even at-120
SK-202 - cordura backpack / Towing harness - This durable backpack includes shoulder straps and pockets for storing the Sked accessories when not in use
SK-203 Horizontal lift slings " A pair of 9000lb. tensile strength slings is provided for hoisting the Sked stretcher by helicopter or other haul system in a 4 (horizontal position.
SK-204 Tow Strap " This 6 foot strap with bronze snap hooks on each end attaches the Sked stretcher to the backpack, changing the backpack to a useful towing harness. It can be used by one or more people, in several configurations for towing the Sked . It is not to be used for hoisting patients
SK-205 removable webbing handles In addition to the four handles sewn permanently on the Sked stretcher, four additional removable handles are provided to allow the Sked to be carried by up to 8 rescuers.
SK-206 Steel Locking carabiner a large locking steel carabiner is included with the system for attaching the stretcher to a hoisting system. These carabiner are rated at a 9000lb.minimum break strength.
SK-207 Vertical Lift Sling - for lifting in the vertical position , 30ft of 3/8 PMI kernmantle rescue rope, with a minimum break strength of 5265 lbs., is provided with a figure 8 knot in the middle.
Contact Us
Plot No. 17C, Kandivali Co-operative Industrial Estate, Near State Bank of India, Hindustan Naka, Charkop-Kandivali (West), Mumbai, Maharashtra, 400067, India
Phone :+918037401615