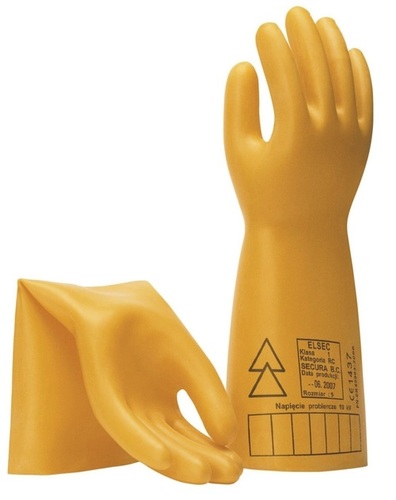 Electrical Insulated Seamless Gloves
Product Code : JS 1016
Product Description
ELSEC (EN 60903:2003 + AC2:2005)
Application : Insulating gloves ELSEC are applicable for electrical purposes exclusively as the basic personal protective tool for live working at voltages up to 1 kV or as additional protective measure for live working at voltages exceeding 1 kV.
Characteristic : ELSEC gloves of insulating material have ergonomic shape & are made from high quality natural latex using fully automated production line. Each glove is individually numbered & electrically tested using computer controlled testing arrangement. Report of this test is attached to each individual glove package. The ergonomic shape & elasticity of glove makes comfortable & easy manual work even when anti perspiration inner cotton glove &/or protector leather gloves are worn over.
Five classes of ELSEC glove are produced fulfilling different voltage test requirements.
Technical characteristic of ELSEC glove according to EN 60903:2003 + AC2:2005
TYPE ELSEC 2,5 ELSEC 5 ELSEC 10 ELSEC 20 ELSEC 30
Catalogue no. S5911000 S5912000 S5913000 S5914000 S5915000
Designation of maximum use voltage
AC, V rms 500 1 000 7 500 17 000 26 500
DC, V 750 1 500 11 250 25 500 39 750
AC tests

Proof voltage kV, rms 2,5 5 10 20 30
Maximum proof test
current,mA, rms 12 12 14 16 18
Withstand test voltage
kV, rms 5 10 20 30 40
Contact Us
Plot No. 17C, Kandivali Co-operative Industrial Estate, Near State Bank of India, Hindustan Naka, Charkop-Kandivali (West), Mumbai, Maharashtra, 400067, India
Phone :+917259579297